Hard Surface Protection and Sealing

paving company in New Port Richey, FL
Many people think that concrete, being the super tough material even skyscrapers are made of, is immune to the effects of moisture leaking or cracking because of ice. It turns out that concrete, too, needs protection from the elements. At Eco Green Roof Clean & Pressure Washing, we provide that protection. Our concrete contractors boast successes on job sites all over New Port Richey, FL and beyond, prepping concrete surfaces to endure countless seasons of weather-related abuse.
Our concrete contractors use a variety of methods to protect and seal concrete once and for all. What this means is that an already durable substance becomes even more durable. At Eco Green Roof Clean & Pressure Washing, we're committed to excellence, and we pledge to provide:
Quality service

Reasonable rates

Our full attention to every job
For more information about our hard surface protection and sealing services or to schedule an estimate, call us today.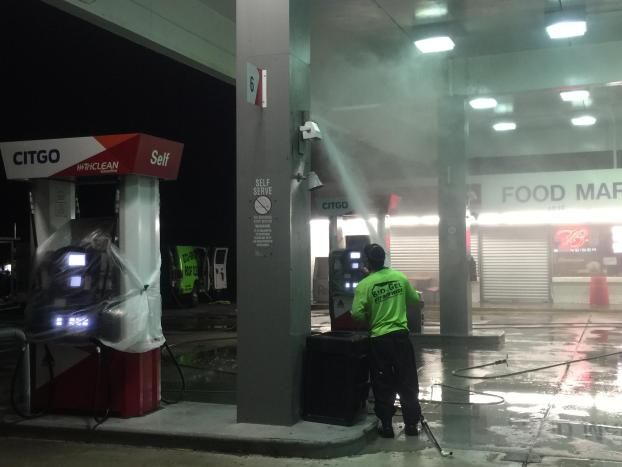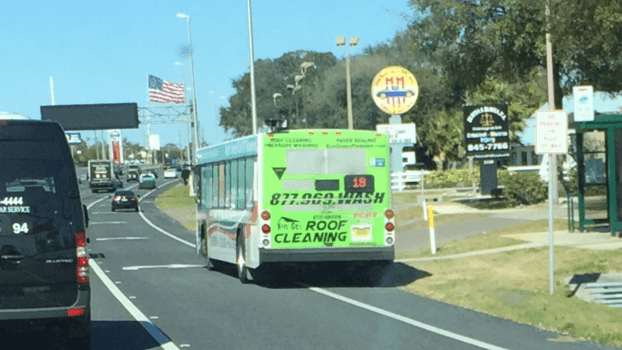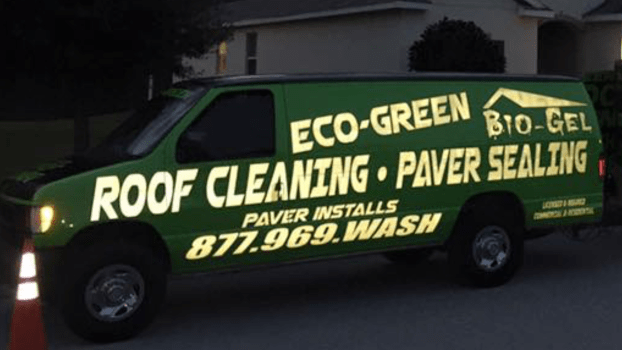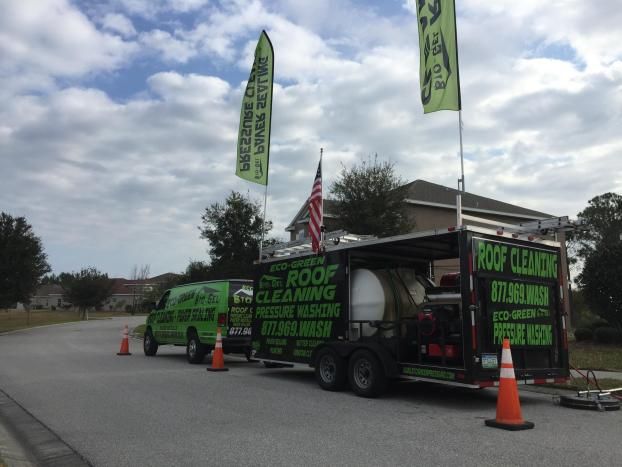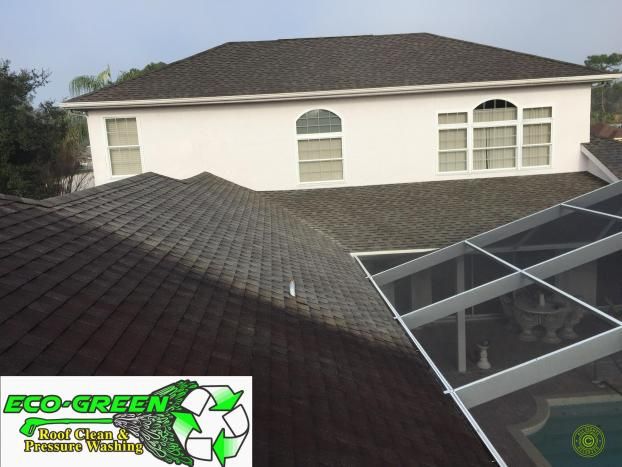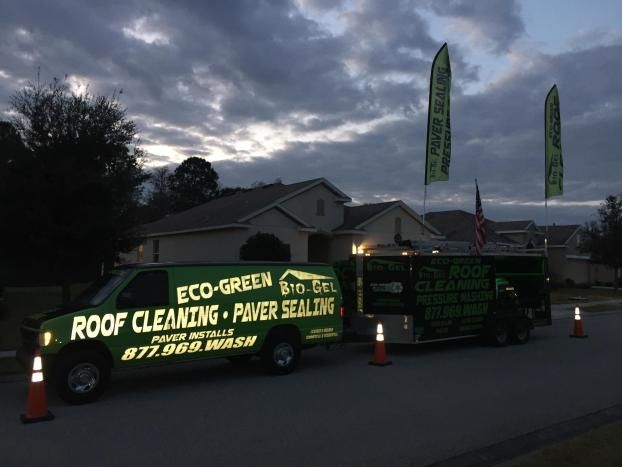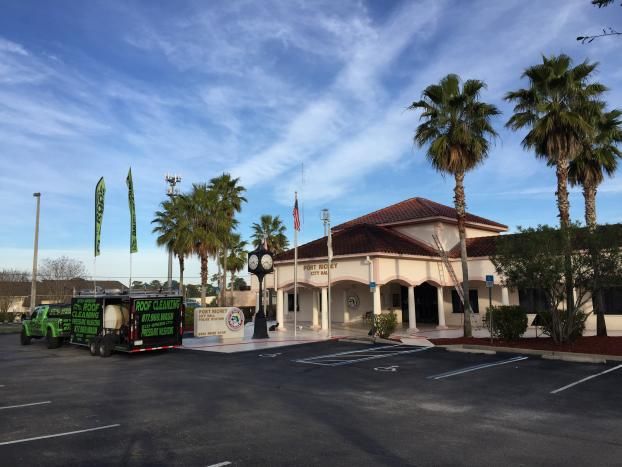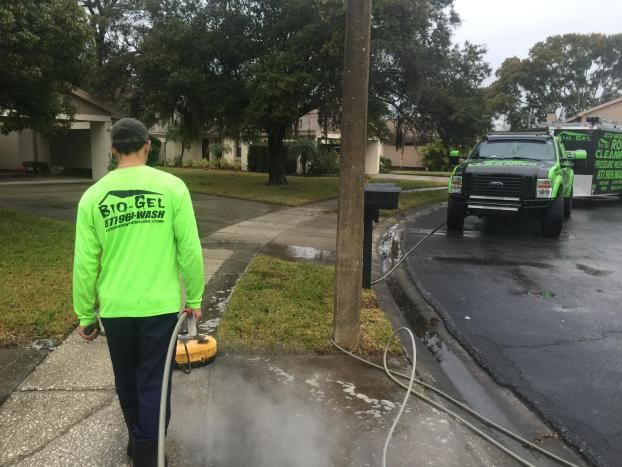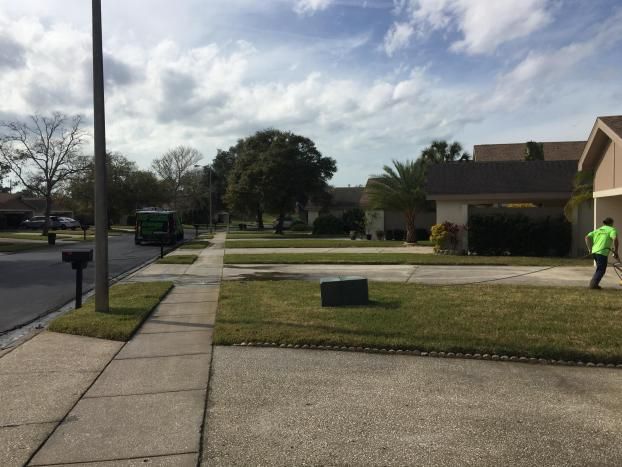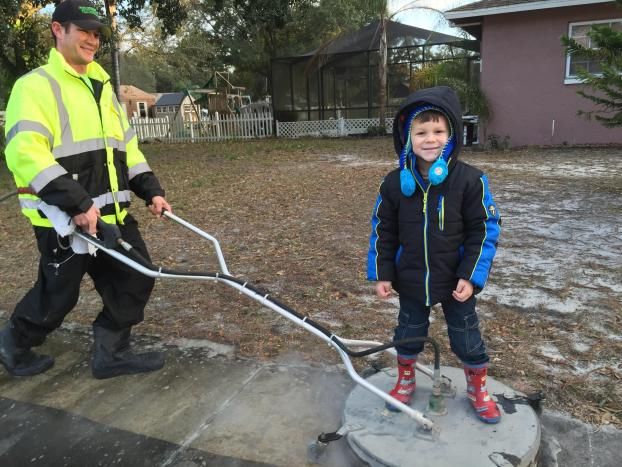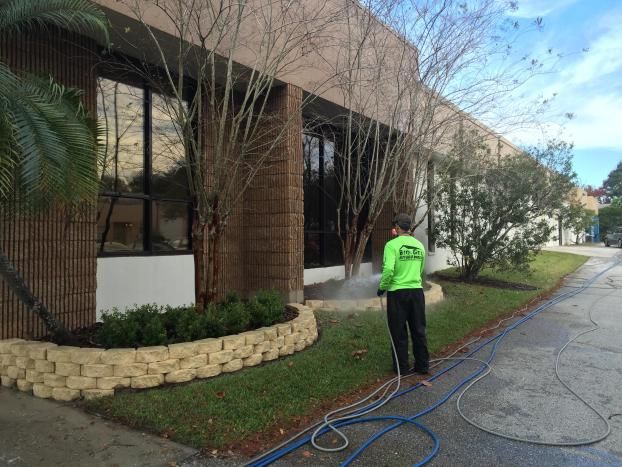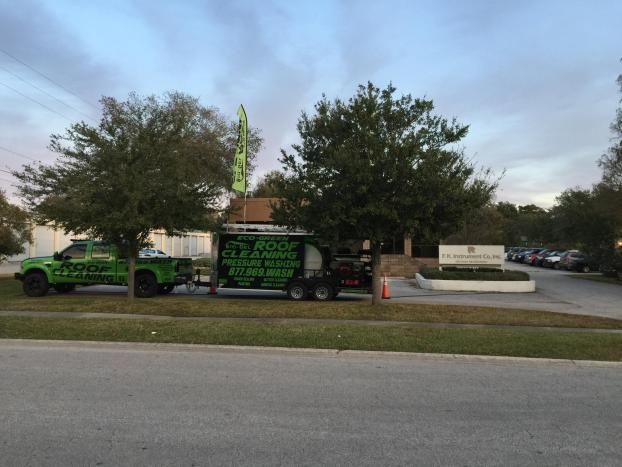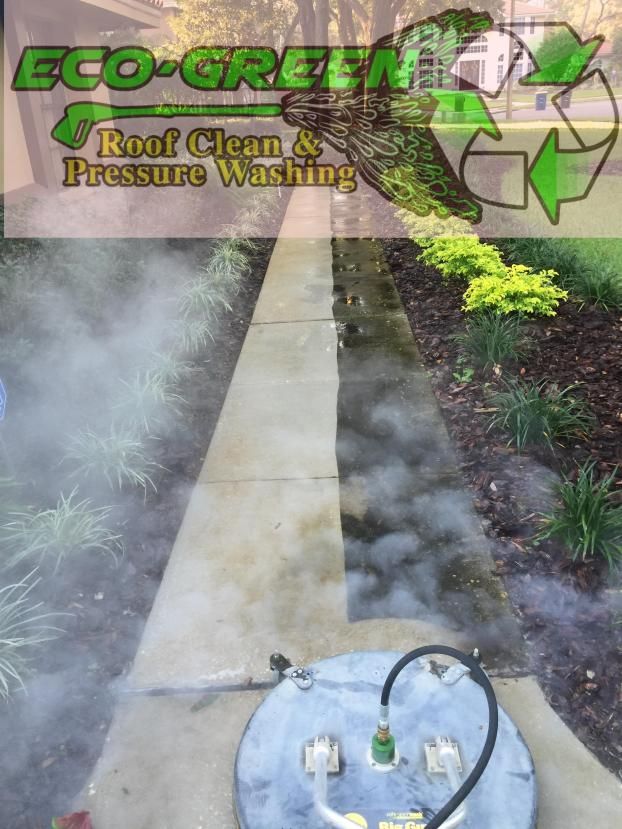 ECO GREEN Commercial Pressure Cleaning Division
BioGel cleans everything. Hot water Pressure Cleaning, Oil and stain removal, complete exterior cleaning and sealing services. (877)969-WASH
Open 24 hours a day, 7 days a week
- Donna Robinson. 2/6/2020

Can't say enough good things about Gary and Pauline Smith. Have used their services many times and they're simply the best. Gary's attention to detail and willingness to go the extra mile is unmatched. Great people and service!!

- Brandon Kemp. 1/16/2020

I have my tile roof cleaned and very pleased with the results. Good customer service too 😋

- Kimiko Cryer. 1/13/2020

We are proud to refer Eco Green and even contract them ourselves! They are honest, reliable, and do quality work! Our freshly sealed concrete looks pristine!

- Admin Finicky. 7/22/2019

Eco Green is hands down the best at what they do. They cleaned and treated thousands of square feet of sidewalks and curbing. The concrete looks as good as the day it was poured. We have a couple thousand feet of vinyl fencing that was oxidized and covered in rust from our well irrigation. They removed 100%% of the rust and oxidation. Fencing looks new again. I don't think there is anything they can't clean. Also the fire truck is one of the most impressive and brilliant ideas I have ever seen. Cant wait to have them come back and make our 20 year old roof look like new again. Thank you for the amazing job and top notch customer service. UPDATE: 02/15/19 We had Eco Green come and clean our 20 year old roof a week ago. Before they started the roof was literally black. The product they use to remove years of buildup on the roof was amazing. The roof was actually a light brown color and looks new again. Once again I can't say enough positive things about Eco Green. Keep up the great work and thank you for everything!

Outstanding service. Very professional, extremely polite, with an added attention to detail. My driveway and house look wonderful...and clean!! Thank you, Eco Green.

- Maureen Schooley. 0/29/2019

ECO-GREEN is the best organization for getting your roof or pavement or walls — EVERYTHING Clean! They're super careful not to harm your plants or landscape. You'll know when they show up to do the job too! BIG GREEN FIRETRUCK!! Their trademark. Any companies with similar colors are imitators, and they will not provide the same superior quality.

- Bobby Pickles. 0/18/2019

This company is by far the most professional and attentive to detail I have ever been involved with. First they were here on time all the time. Second, they went over and above. I had noticed a section of my travertine wasn't drying well. Sent Gary a message and he was here within fifteen mins and brought large fans to help the drying process. Also one of our pets tracked some mud on a wet section of the travertine, messaged Gary and he again came on Christmas Eve in a matter of mins. Top notch company.

We had Eco Green come out and provide us a quote to clean and pressure wash our pool deck. This also required them to move quite a bit of furniture and the random gatherings from our 5 year old son. They came out the same day and provided an estimate and were back out a few days later to complete the work. They arrived very early and it was clear from the start that we hired the right company. They took great care in handling and moving all of the furniture and equipment on our deck and did an amazing job in making our deck look new again. We received quite a few recommendations from folks in the area for Eco Green and we are glad we decided to go with them. If you're looking for a professional pressure washing and cleaning of your deck or driveway, these are your guys.

- Jeremy Slater. 11/23/2018

Eco-Green is such a higher cut above the rest with professionally trained staff, great attention to detail, AMAZING plastic structures to protect any plants that could be at risk of being harmed, and finally just a great attitude being respectful to customers like family! These guys are AMAZING and I highly recommend them to anyone looking for roof or paver cleaning and sealing :)

- TheMemeDealer :3. 11/11/2018

Gary and his crew did a wonderful job on our home, porches, driveways and walkways. I was pleased both with the quality of the cleaning and the attention they paid to ensure none of my plants/landscaping were damaged in the process. It was a pleasure dealing with everyone at Eco Green and I'd recommend them to anyone!

- natalie brock. 10/27/2018

Gary and the Eco Green team did a superlative job cleaning my mom's roof, gutters, driveway and sidewalks. She's had multiple neighbors comment how fantastic it looks. We would heartily recommend Eco Green to anyone looking for power washing services. Bravo to them!

- Sarah Swartz. 8/10/2018

I called for an estimate and Gary and his team were able to make it by the next day. We set up a day and time and they came promptly, were extremely professional, and did an amazing job! I highly recommend this company to anyone looking for a friendly, professional, roof cleaning and/or pressure washing company! You won't be disappointed!

It's a rare experience when you find a service provider that is truly best in class in all ways. Yes, Eco Green was! Gary and his partner came out to clean my soffits, foam trim, gutters and power-wash my sidewalk, driveway and front walkway while also sealing the driveway and front walkway. From responding to my request for proposal to completing the work, Eco Green was totally first class. Gary and his partner arrived on time and transformed my house into what looked like a newly built home. I was impressed by Gary's knowledge, experience, respectfulness and total commitment to making sure the customer is completely satisfied. Most importantly all of this was provided at a fair price. I have used other well regarded service providers for this type of work in the past and none have come close to Eco Green... Well done Eco Green... Kevin Thorwarth

- kevin thorwarth. 3/13/2018

I have seen the Eco Green fire truck for awhile. I called, spoke to Pauline and she sent out Gary to give us an estimate. No need to be home. We needed roof, gutters, soffits, screens, sidewalk & drive ALL cleaned. The estimate & price was right! The work was done in a few short hours. WOW! I thought the house needed a good coat of paint but after their work, no real need to paint. I was more than impressed. Gary even took the extra effort to clean the neighbors cruddy old fence! If you are looking for home cleaning that you can trust, don't forget to give Eco Green a call. You will not be disappointed.

- Richard Hohenthaner. 3/13/2018

Gary Smith and EcoGreen are amazing. They do amazing work and are very detailed. We highly recommend them!

- Disparti Admin. 10/22/2017

Eco-Green does an amazing job. Very professional and thorough. My driveway sidewalks and patio area are so clean! I love the sealant used to help maintain. And highly recommend, Eco-Green .

We had approximately 20 trees down in Hurricane Irma in our front yard, on the roof, on the car and blocking house entrance and driveway. We were devastated as we looked at everything and then the Eco Green truck pulls up and Gary Smith asks if he could help. He worked tirelessly with a few other volunteers all day and gave us hope we could finish the job. His work ethic, professionalism and community spirit are exceptional, We are so grateful and won't hesitate to hire him for work that still needs to be done. Can't say enough about caring company and Gary Smith.

Gary and his crew are seriously the best around! Besides being meticulous, flawless, and overall professionals with every service they offer, they are always willing to work late or do what it takes to get the job done. If you have any pressure cleaning needs, roofs, driveways, sealing.....there is only one name around....eco green!! Thanks Gary!

This is the second time that I have used this company, and I cannot be more impressed. Last year, they cleaned my in-laws' home and made it look so nice that it was sold within a week and a half. I didn't hesitate to call them this year for our own home. They are truly professional and considerate. They take care to make sure that your home and belongings are protected and they don't rush through the work. Very thorough "craftsmen" doing wonderful work. I highly recommend them.

- Timothy Fore. 1/14/2017

I would highly recommend this company they were on time, kept me very informed and took pride in their work. They went over and beyond the scope of work and their pricing was very reasonable. The crew was very respectful of my home and did such a good job neighbors have asked me if I painted my house or something.

- jessica Lapham. 0/6/2017

Eco Green hands down best in the area!! They pay attention to small details which in my book shows pride!!!! That's hard to find these days!!!!!

- William Burbach. 9/4/2016

I had the pleasure of working with Gary on several projects and have learned so much from him. He is a true leader in the industry. Great work ethic, high morale and attention to detail are just a few the many strong points this company has to offer.

- Jeff Robertson. 2/14/2016

Gary with Eco Green did an amazing job with my home! The difference is night and day. I highly recommend him for your needs!

- Angelica Blomgren. 11/27/2015

We were so pleased with Gary's job pressure cleaning our barrel tile roof that we called him back to pressure clean our home, driveway, and walkways. He was polite, professional, and went above and beyond to make sure we were happy with the work he did. Our home looks as fresh as it did when we built it 25 years ago. I highly recommend using Eco Green.

Gary deserves a 10 star rating. What a great experience. We had a tight schedule to have the work done, he went above and beyond to accommodate us. The work was more than perfect, he took care to protect our lawn and furnishing, used professional equipment and made everything look brand new again. He takes so much pride in the work he does, it is refreshing to see this positive work ethic. When we need the work again, I wouldn't never consider any other company. Gary and Eco Green are the very best of the best. We have lived in Florida for more than 20 years and no one could come close to his professionalism, integrity and work ethic.

- Kathy Horahan. 9/14/2015

Eco Green is the only roof cleaning and pressure washing company of its kind, showing quality, care and consideration unprecedented in the industry. GO GREEN!

We are so happy we found Gary! We contacted 5+ companies before finding Gary working on our neighbors house. Gary is very personable, professional and follows through with his word. He was hired to clean our roof, house, driveway, lanai, and pool cage. We had an abundance of rust from the irrigation system and Gary took his time to ensure it was all cleaned up. Our roof looks fantastic too! If you need your roof cleaned, contact Gary. Don't waster your time like I did!

What a great result! Eco Green Roof Clean Pressure Wash just completed a comprehensive project at my home. This is my second experience with this company, having used their services several years ago, and then having them return this year to clean not only the roof but the entire exterior of my home as well as my screened porch and my outdoor furnishings! I am delighted with the project and the way the owner of Eco Green, Gary Smith, who worked with me to assure that each part of the process went smoothly and quickly. Don't hesitate to call this young man and his group!

- Martha Skeens. 8/29/2015

Absolutely fantastic experience with Eco Green. Second time they've cleaned the house, driveway, and sidewalk, with the added bonus of cleaning my landscape border stones - like new! And Gary gave me recommendation for some other work I needed done - just a great experience, highly recommended. Rob S

As the owner of Whiskey River I had Eco-Green not only do my house but they just finished doing the Tiki Hut at the restaurant and in both instances they did a professional and excellent job. I would recommend them highly to anyone. I cant thank you guys enough and the place looks great.

I had my roof, house, and sidewalk cleaned with fantastic results immediately. They covered all shrubs, had clean and new equipment/vehicles, and very competent confidant employees. Overall i feel i definitely got my moneys worth.

- Russell Mitroka. 6/23/2015

Highly recommended. Gary from EcoGreen returned my call the same day. Gary and the crew showed up on time and takes there time and don't miss a thing. Very professional and polite. They cover all the plants around the house. My house looks like it did when it was built. New again!!! Give these guys a call if you want the best in the business.

- Peter Ingargiola. 6/22/2015

Gary and his team exceeds my expectation every time we use them. Anytime we call he is prompt to respond and shows excellent customer service. Ecogreen is the only company I would recommend in his field, give him a call and you will see!

- Douglas Ford. 6/10/2015

Calling around for quotes to get my roof cleaned was painful until I found Gary with EcoGreen! When he returned my call the same day, I was excited, they showed up on time for the job, were professional, polite, took care of all of my plants, which was really important to me, and my home has never looked better! If you want the best in Tampa Bay, give them a call.

- Elizabeth Hope. 6/10/2015

Eco green was very professional and went the extra mile to protect my plants and property. They're definitely a level above your average Joe with a pickup and pressure washer. I will definitely use them again and recommend them for any exterior cleaning needs.

Exceeding excellence for each and every client! Commercial & Residential Roof cleaning, Paver Sealing & Pressure Cleaning

- Pauline Smith. 6/10/2015

I hired them to clean my driveway that had iron and rust stains that were impossible to remove. They went above and beyond. My drive way turned out better than it has looked in years. They were very professional, I will be recommending them to all of my family and friends!

The team from Eco-Green cleaned my roof, gutters, and patio areas today. They were prompt and professional. They really went well beyond the basics in our estimate, cleaning a number of extras like my concrete patio table, seawall, fence and brick areas. What a terrific job! I would strongly urge you to call Eco-Green Roof Clean & Pressure Washing if you are looking for someone who takes pride in their work, is reasonably priced, and does an excellent job!

- Beth Frierson. 3/28/2014